The 17 Best Wedding Blogs For Amazing Inspiration (2019 Edition)
Planning a wedding is hard.
From the dates, all the way to the send off (wedding sparklers we hope!) and honeymoon, there are a ton of things to think about.
And there are so many questions to ask yourself that it seems extremely overwhelming.
We set out to find 17 of the best wedding blogs to help you be able to plan your perfect wedding day.
These top wedding blogs write about finding the perfect theme, sticking to your budget, and more.
1. Every Last Detail
Educating brides and providing inspiration since 2009, Every Last Detail founder Lauren Grove provides insights based on her many years of experience as a wedding planner.
Grove carefully curates the content on her site to include literally every last detail a bride could need so that you are fully prepared for your wedding.
This includes everything from real wedding stories to vendor recommendations to inspiration and advice.
Better yet, this site tailors content to each bride's unique needs, allowing readers to choose customized advice depending on where they are in the wedding planning process.
2. Carmen & Ingo
Munich-based wedding and lifestyle photographers Carmen Wiggisser and Ingo Leitner offer inspiration from around the world.
This globetrotting couple's website features an amazing gallery of weddings in Italy, The Alps, Vienna, Amsterdam, and even India!
Their stunning photos shot against exotic and beautiful backdrops are certain to give you plenty of inspiration for your own wedding — no matter where it may be located.
For aspiring wedding photographers, the duo also offers a variety of online workshops to help you make your dreams into reality.
3. Wedding for $1000
Maigen Thomas started her blog after writing her first book, "Have a Wedding for $1000."
After seeing the critics claim that "there wasn't enough detail," she decided to start her own blog and has been helping couples-to-be plan their wedding for $1000 (or less!) ever since.
On her site, Thomas covers how to save on every aspect of wedding planning including choosing invitations, choosing the right dress, booking venues, and more.
One of our favorite aspects of the site is the clever Budget Calculator which will help keep you on course as your plan the wedding of your dreams.
4. Disney Weddings
This site is the perfect destination for those who haven't forgotten their childhood memories of Disney being the greatest place on earth.
Disney's Fairytale Weddings & Honeymoons is your one-stop-shop for all things related to planning the wedding of your dreams.
Some of our favorite elements of this site include an "Ever After" blog for real-life inspiration, planning tools (such as a TV show, inspiration boards, and a wedding lexicon), an online stationery shop, and a honeymoon registry.
5. Planning with Poise
Katie, who runs this beautiful wedding planning blog, has made it her mission to help busy professionals plan their weddings in a way that saves time and money while also minimizing stress.
This lovely blog includes in-depth blog posts and guides on hiring vendors, stress management, and productivity.
Katie focuses on "actionable advice" that can help you plan your dream wedding no matter how busy your life may be.
If you want to save time, money, and most importantly — your sanity — while wedding planning, Katie's blog should be your first stop.
6. Chrisman Studios
Based in San Francisco and Charleston, this photography and videography team is all about creating one-of-a-kind documentary wedding films and photography to help you remember your special day.
Their blog highlights their creative approach to wedding photography featuring their work from weddings at destinations across the globe including Costa Rica, Thailand, Iceland, Spain, Mexico, and more!
Whether you are looking for an international wedding photography team to memorialize your wedding or are simply looking for some wedding inspiration, this colorful blog with images from around the world is the place for you.
7. Offbeat Bride
Offbeat Bride is all about non-traditional wedding planning.
Founded by the author of Offbeat Bride: Creative Alternatives for Independent Brides, this blog is the perfect outlet for couples that want to add their own unique twist to their wedding day.
Offbeat Bride celebrates couples for staying true to themselves and features real-life wedding inspiration, advice, DIY tips, and more.
One of our favorite features is the site's Planning Resources & Tools which includes printable planning spreadsheets, wedding planning checklists, links to wedding websites, and more.
If you are planning an out-of-the-box wedding, this site will prove invaluable in your wedding planning process.
8. Want That Wedding
This dreamy UK-based wedding blog focuses on all things wedding.
From finding the perfect engagement ring, to choosing a wedding dress, to planning every detail of your reception, the blog's curator, Sonia, has you covered.
With an eclectic style, Sonia absolutely loves the romance involved in weddings and provides inspiration from a wide variety of bridal styles and tastes including boho, 1920s glamour, and modern chic.
9. Elegant Wedding
This Canadian wedding blog has something for just about everyone — no matter what phase of wedding planning you are in.
With detailed guides to themes, vendors, dress styles, wedding beauty, and more, these wedding specialists will help you plan literally every little detail of your wedding down to your table settings.
Elegant Wedding also hosts an annual Elegant Wedding Bridal Showcase in Montreal — a wonderful destination for any bride (or wedding professional) looking for some serious wedding inspiration.
10. Bride Chic
Amy Jo of Bride Chic is an experienced wedding dress designer who helps brides make their wedding dress visions into reality.
This California-based designer has a passion for fashion history and loves reinterpreting vintage styles for the modern bride.
If you are on the hunt for some serious bridal style inspiration, this stylish wedding blog should do the trick!
On the hunt for a custom-made gown?
Be sure to check out Amy Jo's delightful Etsy shop.
11. Wedding Sparrow
Curated by Sara Russel, this self-proclaimed "Fine Art Wedding Blog" is a corner of the web dedicated to sharing inspiring content for every phase of the wedding planning process.
With elegant posts on bridal style, wedding inspiration, and honeymoon planning, Wedding Sparrow is here to help you tap into your artistic side to plan a stylish and timeless wedding that you will remember for years to come.
Another feature of this website is their Vendor Guide, which helps you connect with the most talented wedding photographers, floral designers, and more.
12. Intimate Weddings
With the motto "Little Weddings, Big Hearts," Intimate Weddings is meant to inspire those who are looking for, well…an intimate wedding!
Founded by Christina Friedrichsen, this thoughtful blog will help you with every step of planning a wedding that fits your personal aesthetic.
Friedrichsen's site includes a variety of useful tools including a Vendor Guide, a Venue Finder, and, most importantly, plenty of real life wedding features to inspire your planning.
For those planning a wedding on a tight budget, this blog also includes articles on how to plan a wedding for less than $5,000 and even $2,000.
The only checklist you need to plan the perfect wedding.
Get yours today for free. DOWNLOAD NOW!
13. Perfect Wedding Guide
A "comprehensive online guide for brides and planners," this blog contains everything you need in order to plan the perfect wedding, whether you are a wedding professional or a bride to be.
With location-specific tools for finding venues, vendors, and bridal shows, this website is a valuable tool for connecting with resources in your area.
From engagement stories to local vendor guides, you can be sure that you'll leave this comprehensive wedding planning site with a refreshed and focused vision for your wedding!
14. Union Eleven Photographers
This award-winning studio certainly knows how to capture the essence of a wedding.
Based in Ottawa, Union Eleven's team of professionals has photographed over 500 weddings in Canada and the United States.
From beginning to end, their gallery of photos shows how a wedding should be shot, so it's no surprise that they have been voted as one of the top Canadian wedding photography studios.
15. Dream Love
This New England-based photography duo has a portfolio brimming with inspiration for nature-loving brides and grooms.
Focusing on candid and relaxed wedding photos set against natural, outdoor backdrops, you won't have to worry about those awkward, staged photos when you work with Katie and Max.
If you are looking for a breath of fresh air when it comes to wedding planning, head over to Dream Love, where you will find whimsically shot weddings on beaches, farms, and even backyards.
16. Weddings Abroad Guide
Are you planning a destination wedding? If so, Weddings Abroad Guide is the wedding blog for all of your planning needs.
With tips on how to choose your destination, budgeting tips, and detailed information on wedding laws in other countries, you'll leave the site with an actionable plan for your destination wedding.
This informative site also includes tools to connect you with wedding planners, venues, and vendors in your destination of choice, so that your wedding will go off without a hitch — no matter how far from home you may be!
17. Mitch Pohl
This Australia-based photographer provides a totally unique take on wedding photography.
One look at his gallery of photos and you'll see that there can be much more to wedding photos than the typical staged shoot of your bridal party.
Instead of staging photos, Pohl focuses on capturing emotion with a creative eye for a fresh and natural result.
Even if, like us, you are not based in Austrailia, his stunning portfolio is certain to motivate your wedding planning.
Attention All Winners: Here's A Badge For Winning!
We've created a badge for all of our winners as a token of appreciation for your efforts. You can embed the badge on your site using the code in the box below. Congratulations!
Are there any blogs we missed that you feel should be on this list? Help the community out by posting your favorite wedding bloggers and how they have helped you with your big day!
Bonus: Bride Envy is a Top Rated Vendor!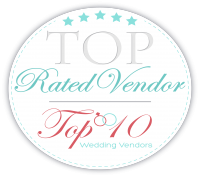 Bride Envy is proud to announce that we are a Top Rated Vendor by Top 10 Wedding Vendors. Thank you for all your support and we hope you enjoy our list of the top wedding blogs on the internet!
About Author